giphoscope
.GIF
HER LITTLE SECRET

Back in 2012, I've moved into a new flat, where I found this mysterious photograph hidden under the old furniture left in the flat. At first glance it looked quite eerie and gave me the chills - it was a washed out faceless portrait of a youg woman. Judging by the classic ornamental collar of her top, it seems this was an old photo of a student with a traditional school uniform. It was hard to say whether it was old or new, as the condition of the photograph was way too fragile to tell.

What is more to tell, is that there were some hand written notes on the back, barely legible, but I could make a full sentence of it. It was written as follows: "This will be our little secret, that will never let you forget me...", signed - Agnutė. The language it was originally written in was Lithuanian ("Tai bus mūsų mažytė paslaptis, kuri tau neleis manes pamiršti... Agnutė")

I was fascinated by the mystery of the image and the story of it - who is the sender, who is the receiver and what was the little secret they had... Her silent face, washed out like an empty canvas, with only a suggestion of one eye remaining, got me thinking what could the secret be. And so I've started adding symbols and images to her face, as if she would like to speak her truths but is not able. This is how the gif boxes and the future screen print 'Her Little Secret' was born.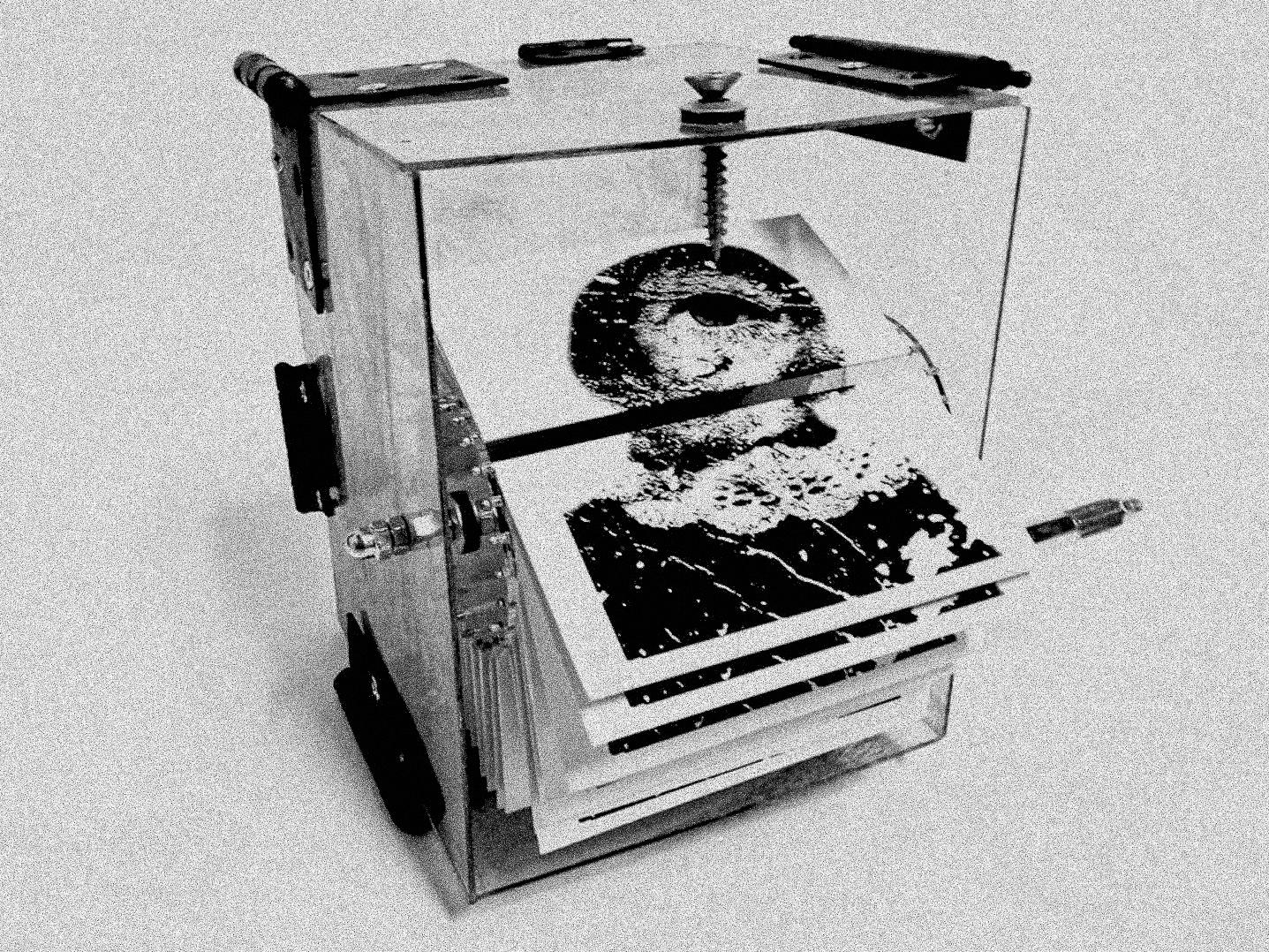 At the time I was particularly inspired by the fluxus movement and sculptural fluxus objects. And so I took this photograph as a readymade art object and made it into a new flux-object. The aim was to bring the faceless portrait to life so I researched and studied how to make a physical GIF machine, analog to the digital .gif file. Following some samples of this giphoscope technique, I've made the entire object from scratch.

To make it I've used some plastic sheets, leftovers from my old etchings. I've made digital drawings of the mechanism and had them 3D printed as parts I would then screw together using some bent metal and screws. Lastly, I've printed the digital animations, frame by frame, and put the 24 motion frames together on a circular disk and a spinning handle. And there it was, fully functioning hand made analog GIF machine - her little secret - giphoscope.

Digital prototypes for the manual GIFBOX animation:



Her little secret screen print


In addition to the objects, I've also made a limited edition screen print of 'Her little secret'.
The print was selected to be part of Jealous Needs You project in 2016 and was exhibited in a group show at Jealous Gallery and Saatchi Gallery in London.

Printed at Jealous Print Studio, Shoreditch, London.