ARTIST STATEMENTS:

- I am an audiovisual artist experimenting with new media art and analog glitch aesthetics.
- I work to create audiovisual spaces, physical and virtual, to escape the surface of materiality and immerse into the immaterial worlds hidden in the noise.
- My goal is to sustain moments of consciousness and extract fragments of awe offered by the beauty of imperfections.
- My worlds are eerie liminal spaces of errors; analog dreamscapes resonating from the endless void of consciousness.
- As a nomad of visceral noise, I collect textural artifacts that I find within the undefined shadow spaces of the Mind Palace.
- Consider my works as invitation to enter the state of Glitch Catharsis - experience of audiovisual trigger tension and release.



We find beauty not in the thing itself but in the patterns of shadows, the light and the darkness, that one thing against another creates… Were it not for shadows, there would be no beauty. "In Praise Of Shadows" by Junichiro Tanizaki //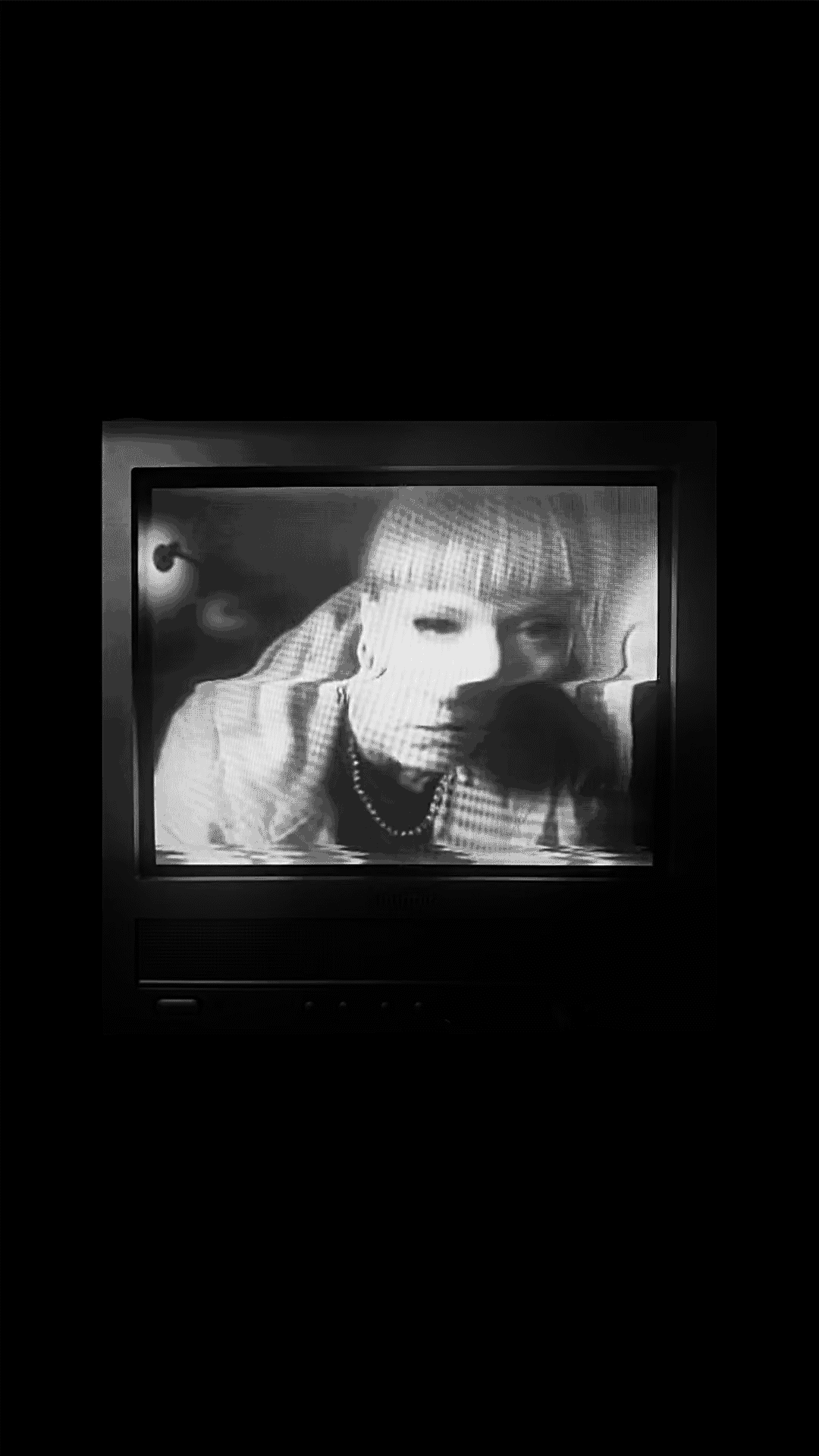 Biography



Egle Saka (Lithuania, 1991) is a London-based, visual and video artist who works with analog medium - glitches, noise, and other distorted/manipulated AV signals in order to bring the beauty of imperfections to the forefront of the viewer's awareness. Egle suggests that by tuning into the stream of analog errors, we may recognize a more human link that can reconnect us with the truer version of our self-image.

Egle has a professional background in printmaking (BA in Visual Graphics, Vilnius Academy of Arts, Lithuania, 2014), which has notably influenced her current body of work as she applies elements of the photographic image and printing processes such as complex image layering, halftones, grains, and gradients.

Besides limited edition screen prints and graphic art, she now mainly creates experimental video art and live, immersive audio-visual performances using modified electronics, obsolete cathode ray tube displays, and AV processing software. These are used to playback/process the broken AV signals and/or create them in the present moment. In her most recent work, Egle has also been integrating elements of sound as a result of experimentally processed field recordings, noise, and electronic ambient soundscapes.

With the use of often intensive, audiovisual stimulus, Egle seeks to challenge the viewer's impressions of reality, individuality, and time. In addition, she explores the complex interlinked relationships between individual and collective memories, experiences, and identities that working with distorted AV analog sources can entail.

Egle has showcased her work in experimental art venues such as IKLECTIK, New River Studios, and fine art galleries such as Saatchi and Jealous in the UK, as well as internationally.






[publications / releases]:



2022 Soundtrack 'Lost in a dream by the sea' with selected artists on NOISEMAS limited cassette release, published by IKLECTIK, London, UK

[virtual / digital / NFT]:

2023 Fragments of The Mind Palace - virtual solo exhibition, in StellART orange gallery with RDland.

2023 Analog Dreamscapes virtual group show at Hitch Switchers Gallery on Voxels. Selected work -'Synaesthetic Split' video.

2021 Collectors Thank You Zine, group project for online zine with Glitch Artists Collective.

[performance / installation]:

2023 Glitch Selfie reactive video installation at Crisis shop exhibition, London, UK.

2022 Live visual performance/projection for NOISEMAS event at IKLECTIK, London, UK

2022 Live VJ performance with SPEW at Cafe Oto, London, UK

2022 AV installation at ALKEMYK FRAKTUR, Nekro Ruido Rekords AV event at Arroz Estudios, Lisbon, PT

2022 Ancestral Noise video callab with 10 Desserts of Errors, collaborative AV and print project, Sao Paulo, BR

2022 'Echoes of the void video' submission for VOID TV, MTHRBORD label showcasing underground music and art, CA

2022 Video and sound installation at ISKROVOS FEST #7, music & art festival in Panevezys, LT

2022 Selected video projection works for AV exhibition "IDENTITY" with Individual Collective at ArtSect NFT Gallery, London, UK

2022 Video archive projection mapping installations at Apiary Studios, London, UK

2022 live visuals for Zanan instrumental AV event at Matchstick Pie House, London, UK

2022 #Oooh_Festival & SKRONK festival, live A/V performance with various improvization and jazz collectives, New River Studios, London, UK

2022 CINESONIC, co-curated live A/V performance with A/V collectives, IKLECTIK, London, UK

2022 TIDES, Live A/V group performance and projection mapping with SubPhonics, SETSETSET, London, UK

2022 INTOX EXTRAVAGANZA, Live A/V group performance and projection mapping with Listening Circuits and Mr.Jones Loud Music Group, AMP studios, London, UK

2022 Spake Easy, experimental visual set for film showcase, Boogaloo, London, UK

2021 XOLO, Live A/V performance with Listening Cirtuits & Blanc Sceol, Space Generators, London, UK

2021 The Otherness, Live A/V performance with Tarik Haskic, IKLECTIK, London, UK

2021 Live A/V performance with Listening Circuits collective, Hundred Years Gallery, London, UK

2021 #Oooh_Festival & SKRONK festival, live A/V performance with Apocalypse Jazz Unit, New River Studios, London, UK

2021 Studio Sova #17: One.Seventy, live stream VJ set with Sin Of The Father, Sova Audio, London, UK

2021 CODED ICONIC, virtual group exhibition, The Holy Art, London, UK




[group exhibits / prints + graphic]:



2023 Collection of Prints, selected screen print exhibition in collaboration with Greta Haga and Crisis charity organisation, at Crisis shop Elephant&Castle, London

2020 Cluster Photography & Print Fair, group exhibition, London, UK;

2018 96 to 95, group exhibition, Willesden Green Library, London, UK;

2017 Jealous Needs You, group exhibition, Saatchi Gallery and Jealous Gallery, London, UK

2017 Hong Kong Zine & Print Fest, group exhibition, HK Open Printshop, Hong Kong, CN

2016 Yellow Dots #3, group exhibition, DSArts Gallery, London, UK

2016 Christmas Pop-up show, group exhibition, West London Art Factory, London UK

2016 motif print studio, duo exhibition, Appestat, London, UK

2016 Open Studios, group exhibition, West London Art Factory, London, UK

2016 4th Graphic Art Biennial, group exhibition, Transylvanian Art Center, Szeklerland, RO

2016 BreakingNEWS, group exhibition, International Print Exchange Programme (IPEP), Mumbai, IND

2016 neo:printprize2016, group exhibition, neo:gallery27, Bolton, UK

2015 50 x 50: The Jealous Needs You Portfolio, group exhibition, Saatchi Gallery and Jealous Gallery, London, UK

2015 screen print exhibit at FLOK salon and art gallery, London, UK

2014 ERROR. BROADCAST, BA final exhibition, Vilnius Gates Project Space, Vilnius, LT

2014 Creative Destruction, solo stand, International Design Fair, LITEXPO, Vilnius, LT

2014 Excite, group exhibition, Kaunas Design Week festival, Design Forum, Kaunas, LT

2014 (META)MONUMENTS, group exhibition, Kaunas Public Library, Kaunas, LT

2013 Edvard Munch 150th anniversary, group exhibition, Vilnius Academy of Arts, Vilnius, LT

2013 Breeding Ground for Young Art, group exhibition, Music and Theatre Academy, Vilnius, LT

2013 Form, 3rd prize in collectible coin competition and exhibit, Bank of Lithuania, Vilnius, LT

2013 Pranas Mašiotas 150th anniversary, group exhibition, The Writers Club, Vilnius, LT

2012 Novotel Inside, group exhibition, Novotel Vilnius Centre Hotel, Vilnius, LT

2012-14 Mundane Art Zine, group project, Vilnius Academy of Art, Vilnius, LT

2012/2013 Algimantas Svegzda (1941 – 1996) name of honor exhibition, group exhibition, Vilnius Academy of Art, Vilnius, LT





[music videos / commercial work]:

[archives in progress]

[collaborative projects]:
[archives in progress]
︎ PROJECTION/VJ/PERFORMANCE
︎ ANALOG VIDEO ART/EDITING
︎ GRAPHICS/COVER ART
COMMISSIONS OPEN COMMISSIONS OPEN COMMISSIONS OPEN COMMISSIONS OPEN